I know, originally the Simple Woman post was intended for Tuesdays, but I love doing it on Mondays. It helps bring my week in focus. Hope no one minds. ~ Cheryl
Outside my window...
~ we are finally getting a little fall color, which I love!
I am thinking...
~ about Sarah's story. If you haven't a clue, you really need to head over to Linda's blog and add a few lines! (I think I am in love with this little family!)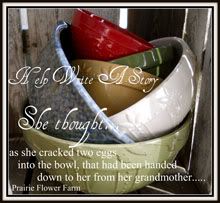 Oh, and Linda is doing a Christmas cookie recipe book! If you want to join the fun, go
here
.
I am thankful for...
~ for the prayers I've seen answered this week and I am looking forward to see how God answers many more.
I am wearing...
~ my pajamas, still ~ perhaps, all day.
I am remembering...
~ a little boy named Kyle
I am praying for…
~ continuing to pray for baby Alex and his family and for each of you!
I am going...
~ to be busy this week! I will be making chow chow (green tomato relish to you non Okies), drying some red cayenne pepper and trying to figure out what to do with more eggplant.
I am currently reading...
~ only have time for my Bible for now
I am hoping...
~ our beautiful fall weather continues
On my mind...
~ my new grandbaby that is due any day!
Noticing that... ~
there are less than 100 days left in this year! Amazing!
Pondering these words…
~ "I am only one, But still I am one. I cannot do everything, But still I can do something; And because I cannot do everything, I will not refuse to do the something that I can do" – - – Edward Everett Hale
From the kitchen...
~ butternut squash and something good I hope!
Around the house...
~ I am (still) de-cluttering
Worked a little on the wall covering in the kitchen this weekend
I am creating…
~ I'm not, HE IS!
One of my favorite things…
~ butternut squash! I love it! (Who knew?) This is the first year we have tired it.
From the Learning Room…
~ Fall break, but we will be working some or special projects!
A picture to share… ~
I've seen this several times around the net and I love it. I think I am going to do something with it for the granddaughters. Any ideas?
For more entries visit
The Simple Woman's Daybook
! You'll be blessed!
May your day be blessed!
Cheryl