Deciding what the post today, the last day of the Thirty Days of Gratitude Challenge, has been somewhat of a struggle. At one time I had decided to post how thankful I am for meeting so many new friends!

And I am

. You will never know how

inspiring

your posts and comments have been. I appreciate both so much.
I have learned so much from each of you.
I was dreading the end of the Challenge…but we are destined to enter a new season!
I am grateful,

Brenda

had the foresight to see this day coming and decided to do another meme!

And just as the Gratitude meme helped to keep me focused on what is truly the Heart of Thanksgiving, I know

Holiday Bliss

will do much the same for this

New

Season

we are now embracing.
Tomorrow evening at sundown marks the first day of

Hanukkah,

the

Festival of Lights

.

Because Hanukkah falls at various times….not always the first of December, this year's beginning is of special interest.

As we approach the celebration of the birth of our

Messiah,

what better way to welcome the

Light of the World

….then with the Festival that speaks of LIGHT?
And just as the Maccabee family rededicated the Temple, now is a wonderful time to rededicate our lives to

HIS

service.
"What? Know ye not that your body is the temple of the Holy Ghost which is in you, which ye have of God, and ye are not your own?"

1 Cornithians 6:19
(There is a little song that is based on this scripture….it will be playing in my head the rest of the day!)
And as we enter this

NEW Season,

I have a surprise for you….
my sweet friend,

Linda

@ Prairie Flower Farm, along with her daughters, has compiled a cookbook.

It is full of delicious

CHRIST

mas Cookies

recipes!

You can download it

free

and share it with your friends and family!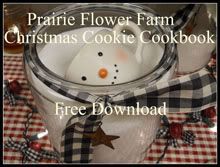 Be sure and stop by

Linda's

and leave her a comment. It was so thoughtful of her and her girls to take the time to do this!