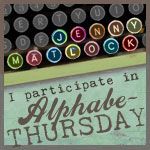 ~ *And Other Favorite Sayings*
I love quotes and sayings that have been passed down over the span of time. And I believe often, we are somewhat surprised when we find out their true origin. Like,
"I see the handwriting on the wall."
~ Straight out of the Good Book!
"A little bird told me,"
you'll find as a warning in Ecclesiastes 12:4, and one of my favorites,
"Straight from the horse's mouth,"
only in this case, it was an ass speaking to Balaam in Numbers 22.
There are famous sayings, for just about any subject, from the powerful words of John Paul Jones,
"I have just begun to fight,"
to the even more powerful (yet sad) words of Chief Joseph of the Nez Perez ,
"I will fight no more forever."
Over the years, I have been amazed at the influence other people's words have on our own lives. Never more so, then when, my then three year old referred to me as, "
Dispectable!"
(Yet another that can be attributed to Bugs Bunny ~ or maybe it was Daffy.)
(From my soapbox) ~ Remember the song,
"Be careful little eyes what you see. Be careful little ears what you hear. For the Father up above is looking down with love, so be careful ~"
? In this day and age, we need to be especially careful for the sake of our children and grandchildren. If not us, who will be?
Perhaps Peter said it best,
"Wherefore gird up the loins of your mind."
"Hardy har har. Au revoire. Adios"

"Okay Okay I'm shuttin' up. Why should I continue to
keep yappin' when I'm told to shut up. I'm not the kind that
don't know when to stop."

"I knew I shoulda takin' that left turn at Albuquerque."
Be sure and go by the awesome
Jenny Matlock's
and see what others are say about the letter "S" for Alphabe ~ Thursday.
Happy Thursday, everyone!

Blessings,
Cheryl