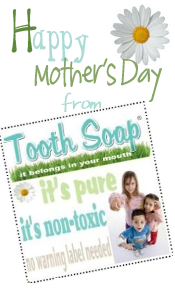 Win one of 4 $100 Tooth Soap® gift certificates! It's your chance to try out some of the MOST TALKED ABOUT product on the blogger web! To find out more
click
.
Did any of you see this? If they should combine You Tube, Twitter and Facebook, you would end up at www.youtwitface.com (How appropriate for some of us!) LOL
We seem to be on the receiving in of a lot of animals people give to their kids, only to decide a little later that it was a bad decision. For the most part, people ask (beg, offer their first born if we will also take said pet), or just drop them at the end of our driveway. I think the end of our driveway must be marked in a fashion similar to how hobos marked houses during the 30's….here ~ easy mark! Will feed! With the grandkids it is a different story, just like their "treasures" their parents think should be thrown away end up at our house, so do some of their pets.
Brennon our star just turned eight y/o received a pet rat for his birthday last Tuesday. The answer is NO, NO WAY, AIN'T GONNA HAPPEN ~ and that is my final answer! (And yes, three of the six dogs that live here are former members of that particular household.)
You who live where sidewalks exist would faint at the amount we spend at the "feed store" each month!
This school year will soon be apart of history. I am so relieved, although we will be doing some interesting, fun stuff this summer, but without the guilt if we don't get it all done! Plus, I get to start planning for next year. Sometimes, I think I am a better planner than doer.
I am so sorry Tennessee and some of the other states in that area are experiencing so much flooding. I am praying for that area of our country. But I am also ever so thankful we are experiencing on of the loveliest springs we have had in a long while….and so far, minus the threat of tornadoes (for the most part).
Because this is Mothers' Day Weekend ~
A few MomismsA little soap & water never killed anybody.

Bored! How can you be bored? I was never bored at your age.

Do not put that in your mouth, you do not know where it has been.

Stay away from that creek until you learn to swim.

This hurts me more than it hurts you
.
The following Momism continues to grow in difficulty with time.;-)

When I was your age, I had to walk ten miles through the snow, uphill, by myself, to go to school.Wade's Wisdom:
This white chocolate Dove bar tastes like soap.
... oh, wait....
Be sure and visit Mrs. 4444 at
Half-Past Kissin Time
for more Friday Fragments.
Then jog over to join the part at
Friday Follow
and be sure to enter the big Mothers' Day giveaway while you are there!
And last, but never least see what is going on over at
The Girl Creative
. Hopefully, you'll find a friend or two at New Friend Friday and there is another giveaway there!
**Love the craft from last Tuesday at TGC. It would make a nice Mothers' Day Gift**
~ hint ~ hint
;-)
Have a wonderful Mothers' Day weekend!

Blessings,
Cheryl