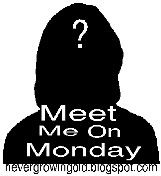 "Its a great way to meet new friends and for others to get to know me better....one Monday at a time!!!"....as quoted by the Chacogirl!! I will make this SIMPLE and FUN!!!
(All ya gotta do is answer five little questions!)
In a word,

NO

.

In all fairness I have never tried Sushi.

I have also never tried rattlesnake, possum, or squid, along with a number of other things…

nor do I intend do.
2. What kind of bath soap do you use?
I use an all natural goat's milk soap.

My favorite fragrance is Sandalwood.

It's wonderful.
3.

How often do you talk to your Mom?
Mom passed away in 2003.

We visited several times a week and the last 4 years, she
lived with us.

I talk to my mother-in-law nearly everyday.
4. What TV shows do you watch on a regular basis?
We do not have dish/cable/etc. and I am not a big TV fan (there was a time, I was).
We do have an international satellite (Galaxy 19), where we can watch movies,
news, educational programs and Hebraic studies.
5.

Did you start Christmas shopping yet?
A little, mostly I have my list made, along with ideas.

I have ordered a couple of things online and I picked up a few small items at a craft fair last weekend.