New Followers

....Hi, make yourself at home! It is so good to *see* you!
I am running behind….you know the feeling?
Getting ready for

Thanksgiving,

we had company over the weekend, trying to "clean" (okay, that is nearly an impossibility) and attempting a little online shopping when the boys aren't

LOOKING

over my shoulder!!!
And we have a minor stomach virus going on.
:( Plus, my reader's list says I'm not following any blogs! arrrggghh! (It is

MONDAY

after all.)
Anyway, to get caught up, I will probably be posting a little through out the day….just check back.
I promised to blog about a few

giveaways,

I have one new

freebie

,

and today is the day I am suppose to post pictures of our

Holiday Swap

hosted by

Parsley

.
Go by and see all the cool swaps! These are some seriously talented ladies (not including myself).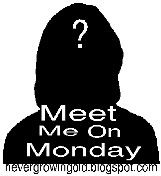 (Be sure and go by Java's and link up with your own answers!)
Today's Questions:
1. How many pillows do you sleep with?
One king size, but I am considering purchasing one of those new pillows that is suppose to stay cool all night.
2. Where will you eat on

Thanksgiving

?
Everyone is coming to our house, for a total of

(TADA!)

22. I am really praying for nice weather,

so all those who are not essential to putting the meal on the table can entertain themselves OUTSIDE!
3. Had you rather go to a party or host a party?
I'd rather

sleep

! Sorry, I am so not a party animal!
4. How many purses do you own?
Three or four, but I usually carry the same one until I wear it out! I am a creature of habit....(or does that translate as boring? LOL)
5. What is your favorite seafood?
Shrimp, preferably fried! However....since the big oil "spill" seafood has not been at the top of my "want list." But if anyone is going to Red Lobster, I'll go for the garlic cheese biscuits.

Just saying!
Blessings,
Cheryl