I'm happy to see you here! I'll try to get around to everybody's blog and follow you back real soon. As you can imagine, this is a busy time of year for the candle business!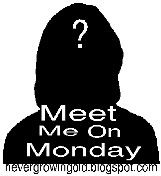 Java

(Never Growing Old) is up and blogging once more after having a bout with Benign Paroxysmal Positional Vertigo…..something that is terribly unpleasant.
Here are the

questions

for this week.
1. What is your favorite kind of cheese?

Hmmm….I like cheese.

My favorites would include ~ Colby, Pepper Jack, Mild Cheddar, Mozzarella…..

Did you know Mozzarella Cheese was originally made with Yak milk?

Just saying.
What size is your bed?
Ours is just a regular…full size.

We have had the king size and it was nice, especially when the kids were younger and migrated our way when they didn't feel good or a dream had awaken them.

But they finally out grew that phase and we like the full size better.
3. What is your most overused phrase?

I have two!

Are you kidding?!!!

And…(my favorite put off phrase), "we'll see." Then of course there is,

"Would you please quieten down?!!!"
4. Green or purple grapes?

Purple!

They are definitely the best.

But I like green apples.
Shower, morning or night?
If it is at night, it's a

nice long relaxing bath.

If it is in the morning it is usually a quick shower.
Our
Holiday Bliss
this weekend consisted of lots of
Christmas Music
and working on
Christmas cards.
The boys (plus cousins) did enjoy some cups of
loaded hot chocolate.
They added whipped cream, peppermint sticks and marshmallows.....all at one time. I stuck with
hot apple cider
with cinnamon sticks.
I found another free ebook that you might find interesting.
The candle giveaway is still open, if you would like to go by and leave a comment.