It's December 2nd! I can hardly believe it. Where has 2010 gone? It seems just a few days ago we were trying to put the pool up, finish setting out plants in the garden and getting ready for summer.
But with

Thanksgiving

come and gone, it is time to look ahead
and embrace the

Season

of

CHRIST

mas!
who hosted the November meme,

"The Thirty Days of Gratitude Challenge"

is now hosting

Holiday Bliss

.
The ideal is to blog about what you are doing or planning for the upcoming

Holy-Days

, along with what is going on in you life.
Happy

Hanukkah

! I know that most of you don't celebrate this holiday, but we attempt to, so I pray that the

LORD

ministers

His

grace to you and draws you close to

Him

during this time of re-dedication and light.
Hanukkah began at sundown tonight, December 1, and lasts for the next 8 days. The last day is Dec 9th.
We begin to observe Hanukkah three years ago. At that time is was more of a Social Study Lesson, about other cultures, their holidays, or (since we were doing in during December) how they celebrated Christmas.
Then last year we did a study on the Biblical Feasts of the

LORD

and as we finished up the fall feast days, it was only natural to celebrate Hanukkah. After all, Jesus (

Yeshua

) celebrated Hanukkah, therefore why shouldn't we?
Over the next few days, I will be sharing more about Hanukkah.
The boys really get into the story of Hanukkah!
Tonight...it is after midnight...*Yikes*....I just want to tell you a little about our family how weird we are how and why we do somethings.
After I got married, my family thought we should spend the holidays with them. Fortunately, I had a very understanding mother-in-law and our families only lived a few miles apart. Many years we were able to visit with both families. When the kids came along, often we would have everyone at our house. Trouble would arise when it was "our" turn to go to my aunts.
I made a promise, I would never require my children to be at our house for any holiday. I am blessed that the three grown kids live reasonably close. Our oldest daughter and her family live about 60 miles away (but she homeschools, too, so we switch kids back and forth throughout the year). The other two both live about 9 miles from our place.
I cook on Thanksgiving. Sometimes it is just us, usually DD#2. This year everyone came, however, our son and his family ate dinner with his in-laws, then joined us and the grands spent the night.
Christmas

is much like

Thanksgiving

and is pretty casual. We have a good meal, wonderful fellowship, share gifts with the boys who are still at home and sometimes other members show up later in the day.
January 1st

we all get together and enjoy the day! No one feels the need to hurry to be somewhere else. We usually do a "theme" meal and everyone contributes - one year we did Italian, we've done Mexican, cooked out when the weather was nice, and even ordered a 4 or 5 foot sub from

Subway

(which was really a hit with the kids!).
It is my (humble) opinion, we put too much pressure on ourselves and others during this time of year, if we aren't very careful.
And in doing so, we loose sight of what this season of celebration is all about.
One of the things we are doing this year is ~
Through the Any Soldier program.
Another annual event is having all the GrandKids spend the night the last Friday before Christmas Eve.
(This year we will have to switch to Monday because of the Church Christmas program.)
We enjoy hearing their stories and giving the "cousins" all a chance to be together. Their parents get the opportunity to finish up shopping, put toys together or just rest! We have pizza, popcorn and movies. Sometimes we do a craft they can give their parents. Mainly, we have

FUN!
It is my favorite time of "togetherness"!
I had an email this morning from Linda at Prairie Flower Farm and I won the Winter All Year Round Quilt Kit!
Linda and her precious daughters are also the ones offering the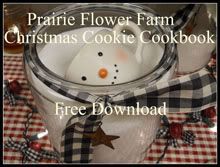 If you have never visited Prairie Flower Farm, you are missing out! Go by and see, you'll love it!
Since I will be linking this to the December 2nd meme, I need to let you know, on Friday, December 3rd
She is Hosting

GIVEAWAYS

each day for a week ~ Dec.1 thru Dec. 8th
Now, I am off to bed....
Blessings,
Cheryl