(Hello new followers! I am so glad you are here.)
First, I have to report, the first meeting of the
Shi-anne Social Club
went well. We fed eight extras….ate our homemade ice cream after supper in the garden, watched the lightning bugs…
I had posted, we were going to take this slow….nothing heavy, just gradually open the doors of ministry, praying the
Holy Spirit
would guide our efforts.
Oddly enough,
God's

Creation
turned the conversation to the more serious. Have you noticed how far south the moon is sitting in the night sky? Even if an earthquake moved us three or so degrees off our axis…..the world is really sitting at an odd angle…REALLY.
So while sitting in the garden, eating ice cream, the moon's appearance caused the conversation to get a little more serious. People are curious. Their imaginations have been pricked by the
we were able to talk about end times…. Not a lot, but a little….baby steps.
(We don't want to scare anyone away.) ;)
(And yes, I thought about the fact we started this new venture on

Shavuot/Pentecost SONday

....it wasn't planned, at least not by us.)
BTW, here is a question for you….
What comes at the end of time
And at the beginning of eternity?
Before you get the idea this is a spiritually heavy question, remember I spent last week with two of the granddaughters visiting…..the 11 y/o is full of riddles. ;) Answer is at the bottom of the post…the way bottom, by my signature.
Linda
over at
Prairie Flower Farm
is hosting a new giveaway…starting TODAY. I don't know what she is up to, but if her new header picture is any indication….it's something
RED

and lovely!
Now….
~ My Gratitude List ~
(I'm just starting on my 1000 or so things I am thankful for. You are welcome to join me!)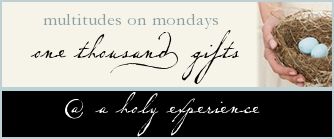 dirt, the smell, the feel…the new growth it brings!
watching lightning bugs with the five y/o grandchickie
making jelly with the eleven y/o grandchick.
sharing quiet time with HIM
sitting in the garden at the end of the day with my other half
friends who bring blessings, neighbors who can use a part of those same blessings
a warm relaxing bath
waking up to the smell of coffee, knowing someone who loves me is going to bring me that first cup
walking barefoot in freshly plowed dirt
the smell of green onions from the garden
finding not one but two pints of green tomato relish in the cabinet, when you thought you were out.
watermelon, ice cold….a little sea salt….heaven!
friends who want to make a difference in the lives of hurting people
rainbows
a good Bible study
watching a four y/o and a five y/o study the way a baby frog hops
strawberries
wild roses blooming along the country roads
the nine month old grandchild attempting that first step
surprise mail from a friend
rain
a good report
music and the memories it can bring to mind
homemade ice cream shared with friends
the smell of sandalwood