"I will praise thee; for I am fearfully and wonderfully made: marvellous are thy works; and that my soul knoweth right well."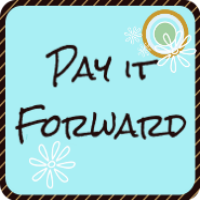 Be sure and go by and visit Holly where you will find more
Pay It Forward(s)!
I went by Lynnette's earlier in the week, Lynnette Kraft, Dancing Again. If you haven't met Lynnette, go by and introduce yourself. You will be blessed….but, that is another Pay It Forward post, for another day.
Today, I want you to meet Sara. Sara is an amazing example of beauty, both inside and out. She's funny, interesting and an over-comer in circumstances that would swallow many of us! In reading about her struggles, you will find hope of your own.
"My name is Sara and I have alopecia."
Please go by and say hello.
(Remember, if you have a prayer request for 'Fearless Friday, just leave me a note in the comments or send me an email at
bloomwhereyoureplanted@yahoo (dot) com
Please put "prayer" in the subject line)
Tomorrow is Building Our Homes Together. Be sure and stop by!
And Judy at Cranberry Morning is hosting a giveaway for some of her lovely handcrafted soaps!