Today, I'm joining Holly (A Life-Size Catholic Blog) in
Pay It Forward.
Here is what Holly has to say about Pay It Forward:
"Pay It Forward" is an avenue to connect with each other, and reap the benefits from what that connecting can do: find new friends, make you laugh a little, cry a lot (maybe that was only me), and affect you in a way that keeps you thinking for days afterwards. So, be sure to write up a little tidbit about one of your favorite posts, or blogs—from another blogger—and "Pay It Forward".
Just click on the button below to learn more! You'll be glad you did.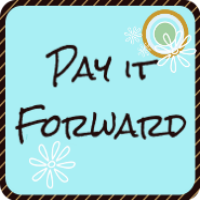 I have been blogging for a while, which has resulted in meeting many, many special people. Over the months, years, I have talked about, laughed with and featured a number of these outstanding bloggers.
Today, I would like for you to meet my friend

Angela

at Free Spirit Haven. You will love

Angela

….she's

REAL

. She will make you

laugh

,

cry

, and

think

. She is a

Christian

. There was once this saying going around that went something like this ~
"If they were to put you on trial for being a Christian, would there be enough evidence to convict you?"
Angela

would be convicted…the jury wouldn't even have to leave to deliberate the evidence….the cold hard facts are written all over

her blog, her heart, her life.
The Royal Wave
One of my favorite post Angela has written (recently) is titled
What's Changed
You will like! More to the point, you will indentify!
Today's post is good, too!
The Real Me
(Very strange, as I didn't tell her I was going to post about her!)
She's weird like that.

Be sure and go by and say hi!
Here are some facts about
Angela

….
She's a Canadian

She's funny ~ no really make you wet your pants, FUNNY laugh out loud

She loves RED

With her *diet* she refers to as sacrificial fasting, she has lost over 100 lbs.

She is a garage sale-aholic!

She works for someone she once boycotted

She can do the Royal Wave

....see picture!

She has a beautiful family

She has the heart of a warrior

She is an encourager