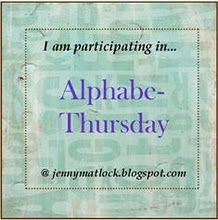 [A]
Long, long
time ago,
I can still remember.
How the music used to make me smile
And I knew if I had my chance
That I could make those people dance
And, maybe, they'd be happy for a while.
But February made me shiver,
With each paper, I'd deliver..
Okay, all together…
So bye, bye Miss American Pie
Drove my Chevy to the levee, but the levee was dry.

(Thank you, Don McLean ~ 1971)
Okay, I cheated…but when I saw the
L
, it made me think of a
long, long
time ago.

L is for lame
L is for lazy
L is for livid
L is for Lord
L is for love
L is for lovely
L is for loyal

And as Garfield would say ~ L is for LASAGNA

So, my lazy classmates, before the lovely Mz. MatLock looks in and becomes livid, I lovingly suggest we turn our loyal hearts toward the task at hand. Dig those L's out and Look aLive!
For more on Alphabe-Thursday, lug your lazy self (just kidding), over to the lovely
Mz MatLock's
and checkout the loyal link ups! After all, lucky for you, we don't want you to feel Looked over, left-out, or left behind!
Blessings,
Cheryl