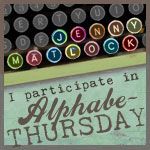 Looks like two for one Friday and there are so many other wonderful memes on Friday we could include here, but sometimes we have to consider the time (and frankly, sometimes I feel I spend way too much time on this electronic contraption , but what can I say? I love ya!).
If you would like to hitch your "O" post to the wonderful Mrs. Matlock's, please click on the Alphabe – Thursday button above. You will be glad you did!
If you are posting about
Oklahoma
, there will (hopefully) be a MckLinky at the bottom of this post. Still dealing with connection issues. Ugh
Oscar and Oklahoma
(How's that for some O's?) I love our state! Even with the "wind sweeping (fiercely) down the plain" tonight (and the wind drives me somewhat crazy!) it is still my state and I love it.
My grandfather,
Oscar
Foster, came to
Oklahoma
from Missouri by train. The day he arrived in Purcell, Oklahoma, was March 13, 1871, his 21st birthday. He would later marry my grandmother, Effie Howard. The Howards had moved to Oklahoma by way of Tennessee from Georgia. They were a part of those fleeing Atlanta when Sherman made his march to the sea. Oscar and Effie met and married in
Okfuskee
County, near the community of Mason.
Okemah
is the county seat for
Okfuskee
and it borders Okmulgee County. (There are five Oklahoma Counties that begin with the letter
O
.)
FYI ~ if you are ever traveling down I-40 between Henrietta and Shawnee and see two water towers off to the north labeled "Hot" and "Cold" – you have found
Okemah! Okemah
is also the home of Woody Guthrie.
From Roadside America ~
"We've seen the old "Hot" and "Cold" water tower gag before, but Okemah's line of three municipal storage tanks offers a unique combo of labels.
And whoever ran the water company in Okemah when the last water tower went up must have had a sense of humor, if not more liberal politics than the rest of the town.
"Home of Woody Guthrie" was painted on Okemah's new
onion-shaped
water tower in 1972, back when most of Okemah still wanted nothing to do with its left-wing home town celebrity, and when most other towns were painting their water towers with smiley faces."
Now that we have had our "history" lesson for today, I have an announcement. Friday next, we are all skipping class….(not really, Mrs. Matlock,
only
those who are suffering from oppression and all this overwhelming class work ~
Opal, Olivia, Odette and Octavious
would love to be excused. They promise to hand in their "P" papers on Thursday.)
When I was in school (right after statehood….not really), this time of year, it was very tempting to skip school on Friday afternoons. And the one or two times we did actually do such a thing (perish the thought), you could find us at Turner Falls. The falls itself is 77 feet. Not huge, but nice for this part of the country and the park is located in the heart of the Arbuckle Mountains. Enjoy the pictures….next time, you can come too (shhhh, don't tell).
Have a great weekend!

Blessings,